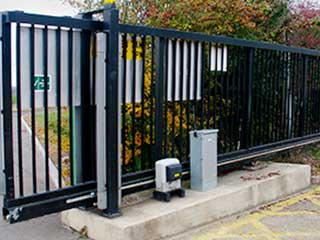 Contact our company today for professional gate repair services. We have the right tools, techniques and experience to provide you with the best installation, repair and maintenance services covering gates of all types.
Excellent Gate Repair Services
We are Gate Repair The Colony and we are proud to say that our professional gate repair services are some of the best available in Texas today! We have been in business for many years and with this experience come effective and reliable techniques that you can count on when you are experiencing issues with your gates. Gate repair is our main service but we are also very proficient with other related services for issues pertaining not only to the gate's door panels but also to their associated parts and other supplemental hardware or components such as the operators, sensors and intercom systems. Call our company if you're having any trouble with the setup that you currently have or even if you don't have one yet but you're interested in having a gate, opener or intercom system installed.
Gate Repair The Colony Gets Your Gate Running!
It's a fact that gates are heavy. This is because they are made out of fairly heavy materials. The most popular driveway gates are made from wood, wrought iron or some other metal like steel. There also isn't a rule stating that each material must be used exclusively so these materials can be mixed and matched to your heart's content. Because any given gate is heavy, we offer our services to automate. You can have your very own Eagle gate opener installed on the same day of your call! We offer many brands and models - all you have to do is take your pick! If you get one, you will no longer be hassled by the task of opening or closing the door panels manually whenever you need to drive your car past your gate. To complement this automation, we also offer intercom systems that enhance your security.
Repairs and Maintenance for Optimal Function
Strictly speaking, as a company, we at Gate Repair The Colony are equipped to handle all kinds of repairs. Even if the damage or problem is so extensive that the function of the gate is hindered, we'll be able to fix it either by repairing the damaged portion or replacing it with a new one. Of all the gate parts, this mostly happens to hinges since they are the ones that bear the weight of the door panels. They are also very susceptible to rust, weld joint destruction or even wooden post erosion. Other parts of the gate that we repair or replace include the door panels themselves. We'll reinforce them and make them sturdier with struts or brackets if they are misaligned. If the problem is with your opener, we can also service that for you. We can perform the appropriate maintenance services on your Ramset gate opener or any brand of opener for that matter to achieve optimum function.
Call us now if you're experiencing any problem at all with your gate setup. Leave your gate in our hands and enjoy the best services in the area!