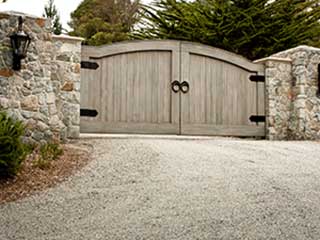 Make your home more attractive by installing a custom wooden gate in the driveway or garden. Our selection of top-quality entranceways makes it easy to find the perfect product for any Colony property. From swing gates to sliding gates, we offer a solution for every home. Our wooden gates and fences are perfect for adding a little touch of class, and also bring plenty of practical benefits as well. Our low prices on wooden gates are very reasonable, and you can find out just how affordable a new gate could be with our free personal estimates. Simply speak with the Gate Repair Colony team today to see what we can do for you.
Cheap Wooden Gate Repairs
Wood is a very tough and long-lasting material. It stands up well to all kinds of damage and doesn't suffer from corrosion the way metal gates do. However, wood needs to be carefully protected from moisture to prevent issues like rotting and warping. All of our wooden gates are treated with a moisture-resistant sealant that keeps these problems at bay. However, it is important to regularly refresh this coating to provide lasting protection. Our Colony-based gate repair service provides solutions for all these problems and more. If your gate post has been damaged, or your gate is sagging, then just contact our team for assistance.
Wooden Gate Installation In Colony
When we install wooden gates, we always ensure we're adhering to our rigorous professional standards. Thanks to many years of experience, we know exactly how to provide long-lasting reliability from your new wooden gate system. With deep foundations and carefully-measured dimensions, your new gate will work perfectly straight away. Our top-quality installation process is indispensable. Don't trust anyone other than our local Colony-based team to install your new wooden gateway.
Low-Cost Custom Gates and Fences
A new wooden gate doesn't have to be an expensive investment. We're proud to offer Colony residents a huge range of attractive gates without a big price tag. Our products include every variation you could require, including sliding gates and swing gates from wood. You can customize these with a variety of different features, including large panels and wooden pickets that help to maintain privacy by blocking outsiders' line of sight. We also offer the same for wooden gate fences and posts, to help you create a perimeter, should you choose. This is a great way to maximize privacy at your property and is a great reason to install wooden gates at your home.
Local Wooden Gate Experts Near Colony
If you're close to this part of Texas, we're the local wooden gate specialists to call for help with installation and repairs. The best way to begin your search for the perfect gate is to contact our locally-based team of experts. We offer free estimates for custom gates and fences made of wood, iron, and steel. But this is also a great opportunity for you to ask any questions you may have. If you're wondering what type of gate would be best for your home, or what kind of maintenance requirements it might have, then our experts will be perfectly happy to provide answers. Get in touch today to find out more.