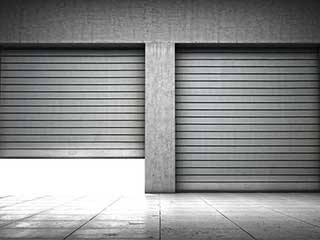 Garage doors are somewhat similar to gates in function: we use them as a convenient means to guard our property and belongings. They are also somewhat similar in the aspect of complexity, especially when they're automatic. If you discover that your door is acting up for some reason, it may be difficult and potentially even dangerous to try and deal with the problem yourself. That's what our team is here for! You can leave any problem to our professional technicians. With over a decade of experience under our belts, there's no malfunction we haven't already encountered and solved.
Broken Spring Replacement
There are a lot of different components that make up your garage door system, and each one has a specific role. None are more hardworking than the springs however, as they are in charge of counterbalancing the weight of the panels, and therefor will end up breaking after a certain amount of time. Dealing with spring replacement can be very dangerous, as these units can whip around and cause serious injuries. Rather than taking needless risks, let our experts take care of these potentially dangerous components.
Opener Repair & Troubleshooting
The main unit that controls and powers the movement of your door is the opener, and being such a complex device with a lot of responsibility, it's only natural for it to experience a wide range of potential issues. From broken motor gears to circuit board glitches and even malfunctions related to the drive system and the trolley carriage, there's no problem our team hasn't already handled many times before. Whether you have a chain drive opener, a belt drive model or a screw drive unit, our technicians will be able to help.
Any Type of Problem!
It doesn't matter whether you're dealing with track and roller problems or if you need to have a broken panel replaced, our professional technicians at Gate Door Repair The Colony are here to assist you. Contact us today to get the best service experts around.