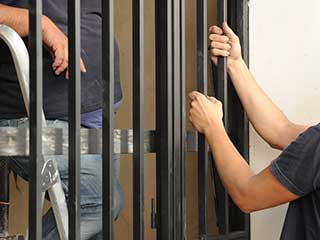 Having professional help with your gate installation can be convenient as well as perfectly practical. There are many things that can go wrong with gates that are not correctly assembled or placed. Here we take a look at some of the most common issues that can be faced if your gate is installed by an expert.
Sloped Driveway Gate Installation
This can cause a lot of issue with swing gates in particular. Many swing gates will have one door. On a sloping terrain the fact that a single door requires more consistent ground as it moves outwards up the slope can cause frustrating problems. A professional would advise you to consider having a gate with a 2 door design to lessen the depth of the swing. If you plan on installing gate openers, a gate that comes into contact with the floor at any point can be disruptive and bring further strain to such technology.
Considering Traffic
When tackling driveway gates installation, it is very important to consider traffic on both sides of the gate. It has to be as comfortable as possible for your own cars to maneuver within your property. It is also important to never have the doors open to obstruct people and vehicles outside your property. If it's a swing gate, the doors should always swing inwards away from public areas. It is also crucial to consider the space that your gates allow for vehicles that are larger than normal cars. Visiting vehicles like delivery vans, or those from the emergency services must have good access to your home.
Automatic Gates
Automatic gate installation can be incredibly challenging if you have no experience of completing one successfully in the past. The motor is a key component to consider. It must be powerful enough and from a quality supplier to suit the gate you want it fitted to. If it is not adequate, your system could falter and break down much sooner than you expect.
Professional Gate Installation
Gate Repair The Colony is a professional gate installation company that can help ensure your gate is installed perfectly in every way. We will make sure all the parts are in place, the positioning of the gate and test all parts to make sure your gate operates flawlessly.
Call us today for a quote or to arrange a call out.
Give our team a call if you need help with:

Steel Gates

Linear Gate Intercoms

Allstar Remote

Rotten Gate Repair