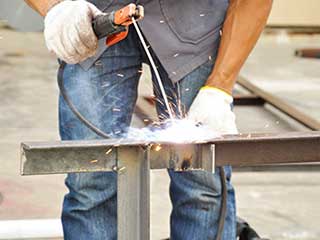 Fixing Hardware, Posts and Panels
Strange noises, uneven sides and difficulties with opening and closing are all signs that there is a problem with your electric gate. Don't leave things to chance, but hire our professional driveway gate repair services instead. We're experts in adjusting and straightening bent tracks and hinges, and fixing wheels and welding. With reliable testing, we achieve the highest degree of accuracy. When a hardware component is broken, damaged beyond repair or completely worn out, we waste no time and replace it with a matching one. Our gate repair services are available to handle any problems with the posts. If you have a post that needs to be straightened and stabilized, rely on us for the job. We can restore greatly damaged panels, including rotten wood ones.
Quick Gate Opener Repair
The motor works perfectly, but your gate doesn't open? Then you most likely have a broken hardware component on your hands. As part of our replacement service, we adjust the new component, especially when it comes to the chain of a sliding gate operator. We will make sure its tension is optimal, to ensure that it performs reliably and has a low wearing rate. If your motor is silent, you can count on us to fix it in little time. In case it has failed completely, we will replace it with a new one which produces an optimal amount of power to operate your gate without wasting energy. Our automatic gate repair services go beyond the motor and the hardware. You can rely on us to fix and replace your safety sensors and remote controls too.
Gate Repair for Intercoms
It's more than frustrating when you cannot hear what the person at the gate is saying. In this kind of situation, our company can help. We will check the transmitter, receiver and wiring to find out where the problem lies. After we repair the malfunctioning device, you can be certain that it'll work like it did before the problem started. Our services cover all intercoms, no matter how advanced or old they might be. You can rely on us to fix even the most innovative systems featuring wireless video transmission.
For fast professional help with your automatic gate, call us now. At Gate Repair The Colony, we deal with all problems effectively and without wasting time. Get in touch with us now to speak with a consultant and book an appointment.
In addition, we offer:

Liftmaster Gate Opener

Ornamental Iron Gates

Security Gate Repair

Driveway Gate Adjustment