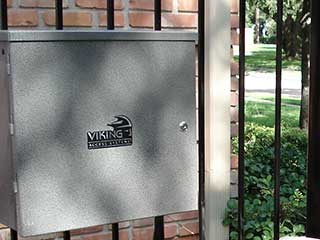 Repair Services for Gate Openers
Even the best gate openers can fail. When this happens, our company is here to help you out, so rely on us for quick assistance. Inspection and testing will reveal what's wrong with the unit. If you have a broken chain or moving gear, count on us to replace it without wasting time. With accurate adjustment, the new part will make the operation of your gate even smoother than before. Issues with the motor are usually more serious, but you can rely on us to eliminate them completely. Our gate repair services cover even the most advanced motors. When the unit has failed and cannot be fixed, we will replace it with a new one which has enough horsepower to operate your driveway gate.
Troubleshooting Controls and Safety Sensors
Gate OpenerWhat if your clicker stops working all of a sudden? As experts in the repair of automatic gate openers, we have a solution to this kind of problem, and very often it involves replacing the battery. When there is a short or another serious issue, however, you can be certain that we'll provide you a brand new remote. Our replacement service includes programming and our company is quick to solve issues with the safety sensors too. If you have photo eyes that don't work, troubleshooting will involve cleaning them, aligning them and ensuring that they receive power. In case they are faulty, we will install new ones without delay. Remember that it is best not to operate the gate automatically while the safety sensors are not working.
Professional Gate Opener Installation
The diversity of openers is so great that many residential customers find it difficult to make a choice. When you use our installation service, you will receive detailed consultation from our expert team. We will give you the information and advice to make the best choice for your swing or sliding gate, given its size, design, setup and other factors. Count on us to install the new motor unit, hardware, keypad and other accessories in a very short time. We always run thorough tests to ensure that the new opener works flawlessly. It will continue to do so in the long term provided that it receives proper maintenance. You can leave this task to us as well.
Did you happen to hear any strange sounds from the motor? Does the chain seem too lose? Don't waste any time and get in touch with us, at Gate Repair The Colony, today - for a quick professional solution to any problem.
Want more? Let us take care of:

Gate Wheels Repair

Program Doorking Intercom

Solid Sliding Gates

Same Day Emergency Service