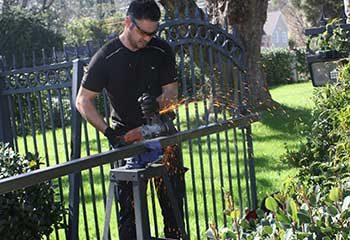 Sliding Gate Installation
Customer Issue: Mr. Marlo wanted a sliding panel gate with no visibility to protect his workshop's lot from opportunists. He also expressed a preference for stainless steel.
Our Solution: We had to cut our own slope into the groove we created across the entryway since there wasn't any natural slope. We molded a concrete track into the groove and put the steel frame and panels on a set of tough rubber wheels. We hooked it all up to a chain-linked gate operator and plugged that into an outdoor outlet in Mr. Marlo's yard.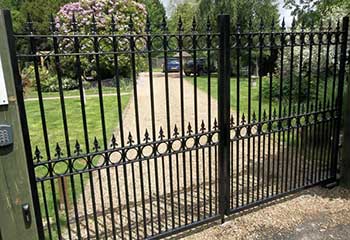 Gate Installation
Customer Issue: Mr. Reyes felt that a gate would be a good addition to his home for safety. However, he wanted to make it unique so that it would be eye-catching for visitors and anyone passing by. Meaning, he wanted a driveway gate with extra curb appeal, as well as security.
Our Solution: Our team worked closely with Mr. Reyes to plan out what he wanted when it came to the style of his new gate while staying within his budget. He decided on an iron swing gate with a special wrought design. Our experts made the framework and proceeded to install the gate according to his wishes.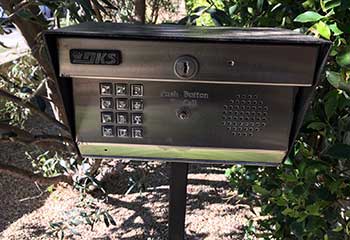 Gate Intercom Repair
Customer Issue: Mr. Boone's business relies heavily on its ability to communicate through the driveway gate intercom, so he immediately reached out for assistance when he found the transmission had static.
Our Solution: Our team completed testing to see the problem with the customer's intercoms first hand, and more easily determine the cause of the trouble. The Doorking 1837 model had a malfunction in the intercom itself due to a damaged circuit board that needed repairs, which our professionals tended to right away to ensure that Mr. Boone's business could quickly return to normal.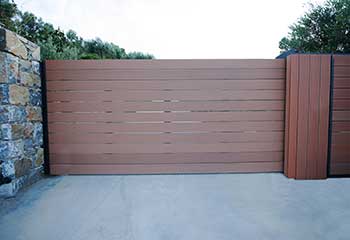 Wooden Gate Repair
Customer Issue: Mrs. Tyler's wooden driveway gate had been damaged due to an accident and didn't work properly, so she called us for assistance getting it back in working order again.
Our Solution: Due to several broken boards on the wooden gate, our professionals brought in new planks to replace the damaged ones. The track of the sliding gate had also been broken, so we completed repairs to allow it to slide along easily again for Mrs. Tyler. Lastly, our technicians realigned the gate to assure it would close correctly.
Maryann Tyler
- Lewisville